Discover more from Dávid Kaya
Blogger, developer, speaker, cyclist, food enthusiast and amateur photographer.
Vietnam 2016 - Hanoi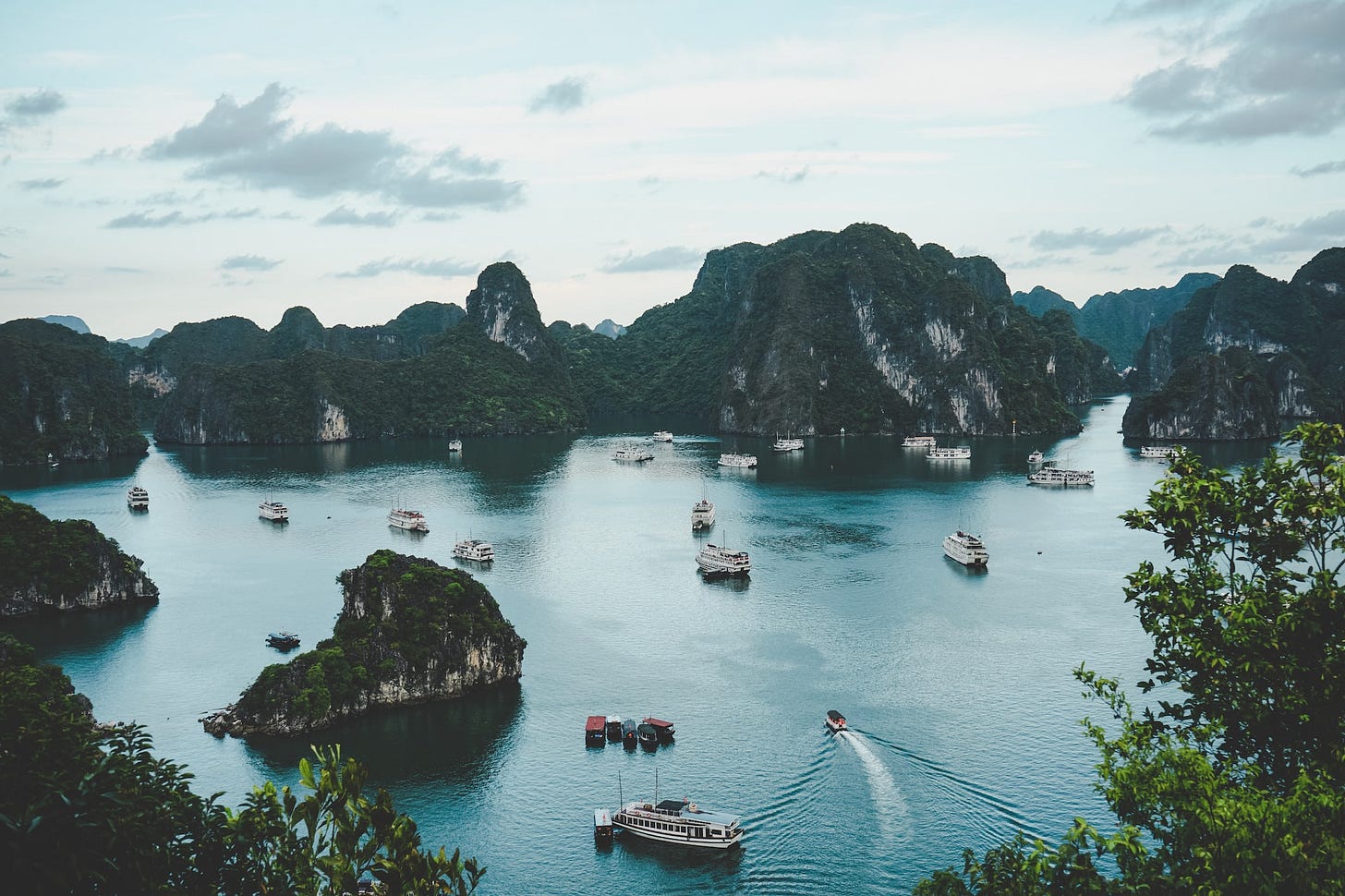 In December 2016 I took a trip to Vietnam with my family and our friends. We were thinking about a destination almost for 6 to 7 months. Finally, we decided to go to Vietnam and Thailand (I will talk about Thailand in different blog post series).
We had two options regarding airlines. We could have either gone from Vienna through Moscow to Hanoi with some Russian airlines or from Vienna through Dubai and Burma to Hanoi with Emirates. The Emirates ticket was a little bit more expensive but it was worth the difference. On 7th December we departed from Vienna and started our trip. It didn't take us long to realize that going with Emirates was a good choice. The personnel at the airport, crew, airplane, everything was literally incredible. There are only two airlines, that I flew with, that had good food (yes I really mean good food). It is Turkish Airlines and Emirates. We even had a Slovak flight attendant!
Our first stop was in Dubai. We had to wait for our plane to Hanoi for something over three hours. We went for a food to a restaurant and killed our time chitchatting. There are a lot of places to eat, drink or spend time in the Dubai's airport. Sadly we were not allowed to leave the airport, however, I do not think that we would be able to do or see something in three hours. When the time came, we boarded our plane and departed for another couple of hours in an airplane to Burma.
We were not even allowed to leave the airplane in Burma and, sadly, we misheard that information and left the airplane. We soon realized that something is wrong since they sent us back to the airplane but the airport personnel didn't say anything. When we came back to the airplane they were shocked what are we doing there. We explained the situation and they seated us back to our places. They were not quite happy in the beginning but in the end, everyone just laughed over the situation. We had last flight ahead of us with the arrival in Hanoi, Vietnam.
 We booked a driver through our hotel in Hanoi. So once we arrived to the Noi Bai International Airport in Hanoi the driver was already there waiting for us. The drive to the hotel took roughly 30 minutes. Just by driving through the city we saw that it is not something that any of us is used to. We were really looking forward to discovering the city and how the people live there. We had some complications when we arrived to the hotel. Since we booked and paid everything in advance, we thought we would just come, check in and that would be all. We were wrong. When we wanted to check in our room for 3 people they said that the price of the 3rd bed was not included in the price that we paid in advance and we had to pay it there. But we wouldn't let such detail ruin our moods so we paid the difference, took a fast shower and went out.
Roads were crowded. Majority of people were on mopeds. It was the most used vehicle there. I have never seen that amount of people on mopeds in my life. I guess they have no choice because the city has narrow roads and large population. If everyone had cars there would be traffic jam all the time. There were no classic restaurants, well, maybe a few, but most of them were their native restaurant. Tables and chairs on the sidewalk. They were cleaning dishes on the sidewalk. It was incredible. Even though everyone was rushing somewhere, they seemed, atleast for me, that they are happy.
There were barber shops on sidewalks. They were even selling meat on the sidewalk, without any refrigiration and there were a lot of people coming by and buying meat there.
We ate a dinner in restaurant where also the locals were eating. It was like I was describing, we ate next to a traffic light. Meat was on a stand on the sidewalk, it didn't look refrigirated. We had shrimps, snake, frog and some vegetables.
The food was really tasty. A lot of people wouldn't even stop by that restaurant since it didn't look healthy and hygienic. But the food was a lot more tasty that the food I would get in some noble restaurant in Hanoi. We really enjoyed the atmosphere. There were locals eating, tourists eating, everybody talking, smiling and enjoying their meal.
That was our first day of vacation. After a long flight we arrived in the afternoon. We walked a little bit through the city, rested after the long trip, had a tasty dinner and went to bed to prepare ourselves for the next day, which I will talk about in the next chapter of my Vietnam blog series. I will talk about Ho Chi Minh City, Hạ Long Bay, Củ Chi tunnels and more!